Welcome to ABF News
Here we are on the latest and greatest abfnews.com website. How are we doing compared to the last structuring of the website? We have completely reworked the entire site over the past few months. The old site was gettting a bit clunky and cluttered. Our hope is the new layout and template will help all our readers find the way around better.
So are you loving it or what?
This next story is about the beach.......
Jersey Shore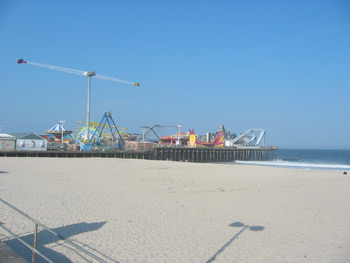 Just about everyone has now heard of the Jersey shore because of the MTV reality series. The show focused exclusively on one beach town - Seaside Heights, NJ. Watching the show would lead one to believe the town is all about late nights, sleeping all morning and young-adults looking for company. Yet a lot of other people visit the beach in New Jersey that are not part of the scene portrayed by MTV. If they are not going to the shore to party, why are these people visiting Seaside Heights?
The most important attraction is of course the beach. While most people do not dream of a beach vacation in New Jersey (more like the Caribbean or Fiji!), it does have some really nice beaches. In Seaside you will find a wide swath of good sand and plenty of amenities nearby. In the summer there are also plenty of crowds, including a lot of younger people. If you want a beach with a commercial boardwalk that has more of a family crowd, you could try Point Pleasant Beach, which is just 10 miles from Seaside Heights. Just next door, if you just want the beach and no boardwalk, is Lavallette.
The biggest attraction besides the beach is the commercial boardwalk. It offers amusement rides, carnival like games of chance, food stands, shops and arcades. You can even fish from one of the piers' that is built out over the ocean. Seaside Heights also has plenty of hotels and restaurants. You can easily find a place to stay and there are plenty of options to eat without having to graze on boardwalk food.
To take a break from the beach and boardwalk, you can stroll over to the bay and catch a nice sunset. Since it less than a mile from the ocean beach to the bay, no matter where you are in town the bay is not far away. There are some fishing docks where you can walk around or you could try your luck catching small fish or blue claw crabs. If you are into natural settings you could get out of town and visit Island Beach State Park. It is an undeveloped area that is only 5 miles from all the bright lights and pavement of Seaside.
These are just some of the highlights that show you what Seaside Heights has to offer. The Jersey shore is a lot more than you might expect after watching MTV!
ABF News
The noise being made about so many things by the pundits today is deafining. One would assume the shear innanity of the drivvle being put out there would mean no one would listen. If all of this would only fall on deaf ears. That of course is not happening. There are all kinds of ears listening. Many are inlets to brains that cannot think for themselves. How hard is it to ask some simple questions and come to the conclusion that the Beck/Hannitty/Obermann/etc.folks are simply mouthpieces for someone else's agenda?
Just in case you want to hear noise of a differnt kind, that is music to your ears:
Wireless Earphones
Technology has revolutionized the way people listen to music. Whether its a person on an airplane or someone out for a jog, technology has made it possible and very convenient to fit peoples needs. Ipods have done away with the big clunky personal cd players. Just as music players have been revolutionized so have earphones. No longer are long and tangled wires a problem in listening to music in privacy. Wireless headphones have made it possible to do away with those wires. There are a number of brands and price ranges to fit just about anyone's needs. The following will take a look at the different types of wireless earphones available in the market.
Logitech's FreePulse Wireless Headphones can be used on any device that has a mini jack headphone output. These behind-the neck head phones allow the freedom to control sound with integrated volume controls and bass boost mode. It can get up to six hours of playtime with its extended life rechargeable batteries.
Ety8 In-The-Ear Bluetooth Earphones by Etymotic are noise-isolating, in-ear high fidelity and wireless earphones. They come equipped with an 8mate adapter for the iPod, leather case, eartips, usb charging cable, and a filter changing tool and filters. There are controls on the earphones that allow the user to adjust the volume and even change tracks without ever placing a finger on the iPod. The music keeps on playing with its ten hour battery life.
Sennheiser's MX W1 Totally Wireless Earphone offer digital wireless high-fidelity stereo sound. Along with the earphones comes a transmitter with 1/8 stereo plug, a docking station with a case for charging, a useful multi-country power adaptor, usb charging cable, foam earphads, three elastic transmitter attachment straps, twist-to-fit adapters, and a users manual. The twist-to-fit earphones allow custom fitting, maximizing comfort. The earphone's can hold up to four hours of running time.
Jaybird's JB-200i-01 Bluetooth Stereo Headset include a carrying case, ac adapter, usb charging cable, replacement earpads and a bluetooth adapter for iPod. These water resistance earphones are designed with noise and echo suppression technology. The playing battery life can last up to six hours.